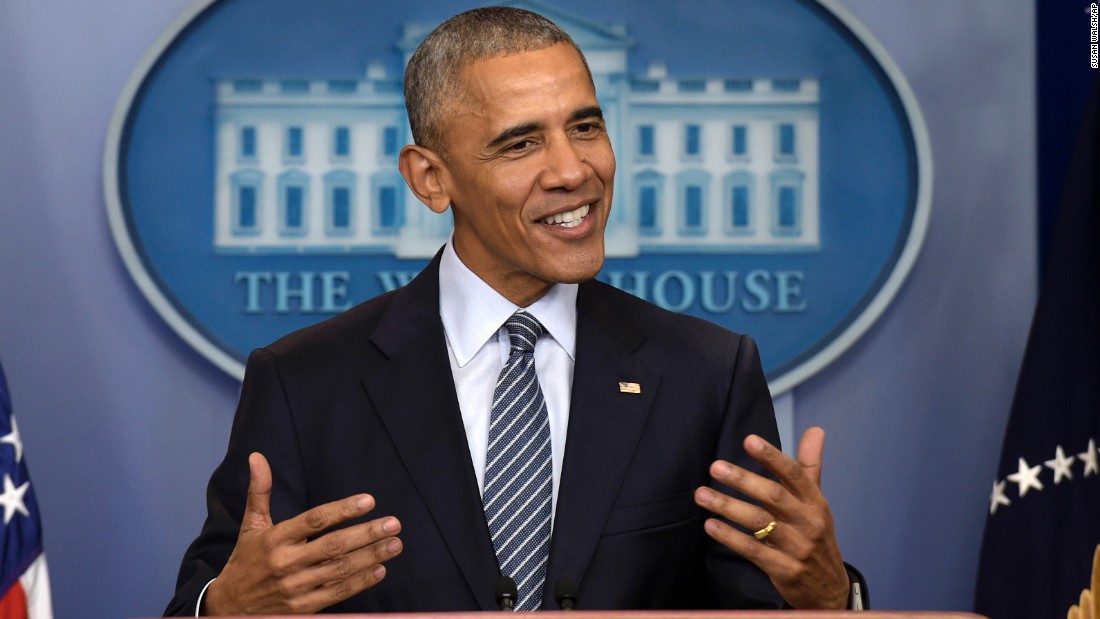 Washington (CNN)A new reality show debuted on Monday — "Presidential Apprentice."
If there's one way to get Donald Trump's attention, it's via television, and President Barack Obama used a White House news conference to openly coach the man who will succeed him in January.
Obama dispensed advice on how to do the top job and tips on how to behave as commander in chief, in a rolling presidential tutorial.
He did reveal another nugget of advice he gave to Trump on Thursday: "One of the things I advised him to do was to make sure that, before he commits to certain courses of action, he has really dug in and thought through how various issues play themselves out."
While never saying specifically that he believed Trump was qualified to be president, Obama did speak almost admiringly of the "Trump phenomenon" and the real estate mogul's connection with his political base.
"That's powerful stuff," he said, and praised Trump as a pragmatist and not an ideologue.
In fact, Obama was so complimentary towards Trump that it was tempting to wonder whether he had ulterior motives beyond the smooth transfer of power.
Certainly, the President could benefit from having Trump's ear if any of his legacy is to survive.
He has already impressed upon Trump how he might be advised to retain some of the more popular provisions of Obamacare, which the new president has vowed to repeal.
And he may have observed that people who are nice to Trump and show him respect appear to have more influence than the President-elect than those who dismiss him out of hand.
But while he was surprisingly cordial to his successor, Obama also spelled out a clear warning. He made a case that he had nurtured the country back to health after the worst economic crisis since the Great Depression, and offered the American people yardstick to judge the new presidency.
"I think the President-elect rightly would expect that he is judged on whether we improve from that baseline and on those metrics or things get worse. And if things get worse, then the American people will figure that out pretty quick," Obama said.
Obama made a case that some of his proudest political achievements, including the Iran nuclear deal and the Paris climate agreement reflected the gap between rhetoric and reality in Washington.
He said both were examples of international agreements that bind other countries into action that was beneficial to the US were the kind of deals that should be carried on across administrations.
Amid reports of hate crimes and deep anxiety among some ethnic groups about Trump's campaign rhetoric, Obama also advised his successor to reach out and do more to unite the nation.
"It's really important to try to send some signals of unity and to reach out to minority groups or women or others that were concerned about the tenor of the campaign," Obama said.
If there was an common theme to Obama's appearance, it was that the campaign is over, and it's now time for Trump to step up.
"Now comes the hard part," Obama said. "Now is governance."
Originally found athttp://edition.cnn.com/